✅WDF44781313048093 Mercedes-Benz V-CLASS 2001 VIN Decoder & Vehicle History Report
---
Mercedes-Benz V-CLASS 2001 VIN Lookup Result:
---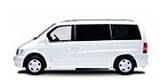 ---
| | |
| --- | --- |
| VIN: | WDF44781313048093 |
| WMI / VDS / VIS: | |
| Manufacturer: | Mercedes-Benz DCAG Germany/Spain |
| Brand: | Mercedes-Benz |
| Model: | V-CLASS |
| Check: | 3 |
| Year: | 2001 |
| Sequential number: | 48093 |
| Approx. mileage: | |
Additional Information
| | |
| --- | --- |
| CarID | 0 |
| Brand | MERCEDES-BENZ |
| ManufacturerId | 553 |
| Catalog | MB201810 |
| Model | 447.813 |
| Name | V 250EAV/L 4X2 3200 |
| ImageUrl | |
| Date | 27.03.2015 |
| Fin | WDF44781313048093 |
| Market | Standard |
| Eu_appr_date | 20150220 |
| Eu_appr_num | e1*2007/46*0457*12 |
| Body_code | 3 |
| Description | КОМБИ "L", КОЛЁС БАЗА 3200 ММ, Long |
| VehicleClass | Commercial |
| Aggregates | M - engine: 651950 32 786829 651.950 M651 D22 DIESEL ENGINE R4 OM651 D 22 GA - Automatic : 722908 08 087833 722.908 W 7 C 700 (NUR FUER / ONLY FOR VAN) 7-SPEED А W7C700 only for MircobusА |
Build Sheet:
Chassis
Sales designation:
V 250EAV/L 4X2 3200 [MODEL_IDX = 50]
Order number:
5 4 221 01102
Delivery date:
27 03 2015
Market:
AG,Europe
Production order:
Paint code 1:
PAINT DOLOMITE BROWN METALLIC MB 8526
Equipment:
Engine no.:
651950 32 786829
Major assembly variant:
A 651 010 29 19
Part var. design.:
Text
Transmission:
722908 08 087833 [transmissionType = GA]
Steering:
Cab:
Transfer case:
Platform:
Front axle 1:
Front axle 2:
Front axle 3:
Rear axle 1:
Rear axle 2:
Rear axle 3:
Rear axle 4:
Exhaust system:
Battery 1:
Fuel cell 1:
Electric motor 1:
Electric motor 5:
Electric motor 6:
SA code
213K
KOELN
427
582
625K
800
PAINT DOLOMITE BROWN METALLIC MB 8526
A11
B03
C447
LETTERING ENTRANCE MERCEDES-BENZ ILLUMINATED
AGILITY CONTROL SUSPENSION
STEERING WHEEL ADJUSTABLE IN INCLINATION & HEIGHT
LEATHER STEERING WHEEL
MULTIFUNCTION STEERING WHEEL WITH TRIP COMPUTER
BUMPER AND DETACHABLE PARTS PAINTED VEHICLE COLOR
HILL-START ASSIST
BUFFER BATTERY FOR STARTING PROCESS
ELECTRICS FOR TRAILER-COUPLING SOCKET
BURMESTER SURROUND SOUND SYSTEM
ABSORBENT GLASS MAT BATTERY 12 V 92 AH
COMAND ONLINE
12 V SOCKET, TRUNK/CARGO AREA
12V SOCKETS FOR SEAT ROWS, REAR RIGHT AND LEFT
3 YEARS OF MAP UPDATES FREE OF CHARGE
ACTIVE PARK ASSIST
F447
OUTSIDE MIRROR, AUTOMATIC FOLD-IN
LOCKABLE GLOVE COMPARTMENT
ELECT.ADJ.& HEAT.OUTSIDE MIRR. W/INTEG. TURN SIGN.
AUTOMAT.DIMMING OUTSIDE AND INSIDE REARVIEW MIRROR
AGILITY SELECT SWITCH
ELECTRONIC KEY IN CHROME LOOK
CENTER CONSOLE WITH ROLLER BLIND
TRIM PIECES WAVE LOOK, ANTHRACITE
LUXURY COMBI
MIRRORS PACKAGE
ILLUMINATED MIRRORS FOR SUN VISORS
CONVENIENCE OPENING/CLOSING W. INFRARED REM.CONTRL
7G-TRONIC PLUS
HOT/COLD AIR DUCT TO PASSENGER COMP.
HOT WATER ADDITIONAL HEATER
SEAT HEATER FOR FRONT PASSENGER
SEAT HEATER FOR DRIVER
HEAT-ABSORBING GLASS ALL ROUND
THERMOTRONIC AUTOMATIC AIR CONDITIONING
CLIMATE ZONE 1 (COLD/COMFORT)
RADIO REMOTE CONTROL FOR AUXILIARY WATER HEATER
ELECTRIC HEATER BOOSTER
SEMI-AUTOM. REGULATED A/C, TEMPMATIC IN REAR
DVD REGIONAL CODE 2
EUROPE/CIS COUNTRIES/MONGOLIA HEAD UNIT
LUXURY MULTIPURPOSE VEHICLE
INLAND (GERMANY)
EU/EFTA REGION
METALLIC FINISH
WHEEL BASE 3200 MM, LONG OVERHANG
KOM MODULE
SEAT BELT WARNING SYSTEM FOR FRONT PASSENGER SEAT
INDICATOR LAMP FOR WIPER FLUID LEVEL
COLLISION PREVENTION ASSIST
BLIND SPOT ASSISTANT
TRAFFIC SIGN ASSIST
RAIN SENSOR
INSTRUMENT CLUSTER WITH COLOR DISPLAY
PRE-SAFE
DRIVING ASSISTANCE PACKAGE
LANE KEEPING ASSIST
ATTENTION ASSIST
MAINTENANCE INTERVAL 40,000 KM
K203
MAIN TANK 70 L
LEFT-HAND STEERING
HEADLAMP ASSIST
EXIT LAMPS
AMBIANCE ILLUMINATION
COMFORT OVERHEAD CONTROL PANEL
AMBIENT ILLUMINATION IN OUTSIDE MIRRORS
LIGHTING IN GRAB HANDLE AT REAR W/ READING SPOTLT.
ILLUMINATION FOR FOOTWELL AT FRONT
LIFTGATE AMBIENT ILLUMINATION
ADAPTIVE BRAKE LIGHTS
LED INTELLIGENT LIGHT SYSTEM
TAIL-, BRAKE AND TURN SIGNAL LIGHTS IN LED TECH.
EUROPE
M014
ALTERNATOR 14 V / 200 A
EMISSION CLASS EURO 6B M/N1 GR. II
ENGINE OM 651 DE 22 LA 140 KW (190 HP) 3800 RPM
ALTERNATOR MANAGEMENT
ECO START/STOP FUNCTION
TEMPOMAT (CRUISE CONTROL)
BLUEEFFICIENCY PACKAGE
TYRES 225/55 R17
TIRE PRODUCER HANKOOK
LIGHT-ALLOY WHEELS 7JX 17
SUMMER TIRES
SPARE WHEEL WITH JACK
TIRE PRESSURE MONITORING AT FA + RA, WIRELESS
CO-DRIVER'S AIR BAG
DRIVER SEAT, COMFORT
PASSENGER SEAT, COMFORT
DRIVER THORAX/PELVIS SIDEBAG
FRONT PASSENGER THORAX/PELVIS SIDEBAG
WINDOWBAGS FOR DRIVER, FRONT PASSENGER AND IN REAR
DRIVER SEAT BACKREST STOWAGE NET
FRONT PASSENGER BACKREST STOWAGE NET
ACTIVE SLIDING DOOR LOCK
SLIDING DOOR LEFT
ELEC. ACTUATION FOR SLIDING DOOR, RIGHT
ELEC. ACTUATION FOR SLIDING DOOR, LEFT
CHILD SAFETY LOCK ON DOORS IN PASS. COMP.
GRAB HANDLE FOR ENTRANCE
ARMRESTS FOR SEATING IN PASSENGER COMPARTMENT
SEAT RAIL SYSTEM WITH QUICK COUPLING
3-SEAT BENCH, COMF., 2ND ROW W. FOLDING OUTER SEAT
SINGLE SEAT 1. ROW LEFT
SINGLE SEAT 1. ROW RIGHT
CARPET IN REAR
HEADLINER
CARPET IN FRONT VEHICLE INTERIOR
LUGGAGE SAFETY NET
CRYSTAL GRAY INNER HEADLINER
GRAB HANDLES IN REAR
AVANTGARDE
LEATHER LUGANO BLACK
LEFT FRONT WINDOW, FIXED IN SIDE WALL/SLIDING DOOR
RIGHT FRONT WINDOW,FIXED IN SIDE WALL/SLIDING DOOR
REAR FIXED WINDOW
SEPARATELY OPENING REAR WINDOW
EASY-PACK LIFTGATE
COLOR GLAZING IN REAR, BLACK GLASS
REGISTRATION CERTIFICATE, PART II
WEIGHT VARIANT 3,050 KG
COC PAPERS
MERCEDES-BENZ MOBILO WITH DSB AND RUST-TH.WARRANTY
PLATES / PRINTED MATERIALS GERMAN
MODEL GENERATION 0
FIRST AID BAG
HAZARD WARNING TRIANGLE
LOAD COMPARTMENT PARTITION
APPROVAL AS PASSENGER CAR
SALES CODE 1
V-CLASS AVANTGARDE EDITION
PAINT DOLOMITE BROWN METALLIC MB 8526
M651
Extra:   


May include:

Title problems
Accidents
Total loss
Flood damage
Odometer problems
Service records
Frame damage
Airbag deployment
Vehicle registration
Recalls
and more...
Mercedes-Benz VIN decoder
|
Mercedes-Benz V-CLASS 2001 Specs and features
|
Mercedes-Benz problems, recalls and complaints
This is the Mercedes-Benz V-CLASS VIN decoder. Every Mercedes-Benz car has a unique identifier code called a VIN. This number contains vital information about the car, such as its manufacturer, year of production, the plant it was produced in, type of engine, model and more. For instance, if someone wants to buy a car, it is possible to check the VIN number one the online database to ensure that the car was not stolen, damaged or illegally modified. The VIN number has a specific format that is globally recognized. This format was implemented by the ISO institute. Every car manufacturer is obliged to mark all its vehicles in this special format. This online service allows a user to check the validity of the car and get detailed information on almost any VIN number, search for Mercedes-Benz V-CLASS car parts and check the car's history. The VIN also allows a user to check the market value of a new or used Mercedes-Benz V-CLASS.
What is VDS? VDS is a Vehicle Descriptor Section. VDS is used to specify a type of vehicle and may include information about the model, platform, engine and transmission.
What is VIN? VIN is a Vehicle Identification Number
What is VIS? VIS is a Vehicle Identifier Section
What is WMI? WMI is a World Manufacturer Identifier. The first three symbols identify the manufacturer of the car.
---