✅VF1KG19B633917867 Renault Laguna 2 2003 VIN Decoder & Vehicle History Report
---
Renault Laguna 2 2003 VIN Lookup Result:
---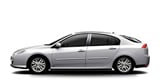 ---
| | |
| --- | --- |
| VIN: | VF1KG19B633917867 |
| WMI / VDS / VIS: | |
| Manufacturer: | Renault France |
| Brand: | Renault |
| Model: | Laguna 2 |
| Image: | N/A |
| Engine: | N/A |
| Region/Plant: | Batilly |
| Check: | 6 |
| Year: | 2003 |
| Sequential number: | 17867 |
| Approx. mileage: | |
Additional Information
| | |
| --- | --- |
| CarID | 1290 |
| Brand | RENAULT |
| ManufacturerId | 566 |
| Catalog | RENAULT201809 |
| Model | Laguna II |
| Name | Laguna II |
| ImageUrl | |
| Date | |
| Actual | |
| KolCount | 0 |
| KolComment | |
| Manufactured | 05 2005 |
| Vehicle_type | KG09 |
| Vehicle_fabrication_number | S744005 |
| Engine | G9T600 |
| EngineNo | C002827 |
| Gearbox_type_and_suffix | PK6052 |
| Gearbox_fabrication_number | C005919 |
| Drive | Левостороннее |
| Options | Тип автомобиля: KG09; Заводской номер автомобиля: S744005; Тип двигателя: G9T; Тип и индекс двигателя: G9T600; Заводской номер двигателя: C002827; Тип коробки передач: PK6; Тип и индекс коробки передач: PK6052; Заводской номер коробки передач: C005919; Уровень комплектации: EA5; Дополнение к комплектации: SAN913; Дополнение ограниченной серии: EPGCOF; Размещение рулевого колеса: Левостороннее; Климатический пояс: Умеренный климат; Цветовая гамма салона: HARM06; АБС: Да; Усилитель рулевого управления: Да-Standard; Тип системы кондиционирования воздуха: Автоматическая система кондиционирования воздуха; Электромагнитное запирание замков дверей: Электромагнитная блокировка замков дверей; Технические и законодательные требования страны: TLALLE; Типы радио: RAD09; Тип крыши: Люк крыши с электрическим приводом; Подушка безопасности заднего пассажира: Нет; Задний спойлер: SAILAR; Тип коробки передач/количество передач: 6-speed М; Вид топлива или энергии: Dieselное топливо; Система стабилизации траектории движения: Да; Тип внутреннего оформления: DCOR06; Определение давления в шинах: DPRPN; Тип включения стеклоочистителя: ALEVA — С автоматическим включением стеклоочистителя и автоматическим включением наружного освещения; Багажник на крыше / опоры багажника крыши: BARSAT - Опоры багажника крыши с сатинированной поверхностью; Тип колесного диска: 16-дюймовые легкосплавные колесные диски; Ксеноновая лампа: Ксеноновые лампы; Открывающееся заднее стекло: Да; Тип электрических стеклоподъемников задних дверей: LVARAP - Электропривод с защитой от защемления; Система обнаружения и помощи: LOCAS1 - Система обнаружения и помощи No. 1; Омыватель фар: Да; Электрический стеклоподъемник двери переднего пассажира: Электрический стеклоподъемник двери переднего пассажира с защитой от защемления; Материал рулевого колеса: Рулевое колесо с деревянной отделкой; Уровень системы навигации: SSNAV; Топливный фильтр грубой очистки: Без наружного фильтра насоса; Дополнительные фары: PROJAB - Fog lights; Ветровое стекло с подогревом: PBNCH-Без ветрового стекла с подогревом; Защита колесного диска: Нет; Дневные ходовые огни: SRUNLI - Без дневных ходовых огней ; Различные функции: SPREST - Без различных функций; Защита днища кузова: SSPSCS - Без защиты под днищем кузова; Радар обнаружения препятствий: RDPROX - С радаром обнаружения препятствий; Задняя шторка: RIDLAR - Задние боковые шторки; Тип наружных зеркал заднего вида: RETREM-Два складывающихся наружных зеркала заднего вида с электроприводом и запоминанием регулировок; Тип регулировки сиденья переднего пассажира: PARLEL - Сиденье пассажира с электрической регулировкой и функцией массажа; Телефон: PRETEL - Подготовка под установку радиотелефона; Регулятор скорости движения: Система регулирования скорости RV; Тип дистанционного управления открыванием дверей: SOP03C; Тип коврика: AVSTAP; Счетчик пробега: Километры |
| Complectation | WITHOUT FUNCTION; WITHOUT INTERIOR IDENTIFICATION; RANGE SHEET MODEL X742BK; COMMERCIAL VERSION; RELAX ELECTRICALLY-ADJUSTABLE PASSENGER SEAT; REAR HEADREST; NO UNDERBODY PROTECTION; MODERATE CLIMATE; HARMONIE INTERIEURE 06; EXTERIOR LABEL 12; SEAT UPHOLSTERY LEATHER NO 03; WITHOUT ADDITIONAL FOR VERSION ADAPTATION; LEFT-HAND DRIVE; LEATHER SEAT COVERING; BUILT UP SPECIAL VEHICLE ORDER: WITHOUT SPECIAL VEHICLE ORDER; 16 ALUMINIUM WHEELS; GRAND COMFORT ADDITIONAL EQUIPMENT; FOG HEADLIGHTS; DRIVER'S MEMORY SEAT WITH HEIGHT + LUMBAR ADJUSTMENT; SEAT WITH HEATING; DOCUMENTATION PHASE 2; DOCUMENTATION PERIOD 2004; STANDARD TYRE; ANTI-EMISSIONS STANDARD EURO 4; EXTENDED EUROPEAN ENVIRONMENTAL RESTRICTIONS 1; DIESEL; M9 ENGINE LEVEL; SOP03C - DOOR OPENING/CLOSING SYSTEM 433 MHZ NORMAL; SIDE REAR BLINDS; EQUIPMENT LEVEL EA5; 2 FOLDING EXTERIOR REAR-VIEW MIRRORS WITH STORAGE; WITHOUT NAVIGATION ASSISTANCE; NO WHEEL DISC PROTECTOR; ELECTRIC DOOR LOCKING; WITHOUT MANUFACTURERS BADGE; ANTI-PINCH REAR WINDOW; NO EXTERIOR FUEL FILTER; FRONT PASSENGER ANTI-PINCH WINDOW; LIGHTS + AUTOMATIC WIPER; PROXIMITY RADAR; X74 ESTATE; X74 FAMILY; MOBILE TELEPHONE PRE-EQUIPMENT; ENGINE WITH DIESEL OBD; TECHNICAL LEGISLATIVE COUNTRY GERMANY; WITHOUT REAR AIRBAG; ESP; DISCHARGE LAMPS; ATHERMAL WINDOWS; NON-HEATED WINDSCREEN; ELECTRIC SUNROOF; G9T ENGINE; WITH HEADLIGHT WASHER; WITHOUT DAYTIME RUNNING LIGHTS; WITHOUT REAR SPOILER; COUNTER UNITS IN KILOMETRES; WITH LUGGAGE RETAINING NET; MAKE OF TYRES: STANDARD TYRE; PLATE GREY PAINTWORK; CLIMATE CONTROL; SATIN-FINISHED ROOF BARS; CRUISE CONTROL; OPENABLE REAR WINDOW; ROUE NORMALE; RENAULT BRAND; INSTRUMENT PANEL 01; WOOD STEERING WHEEL; POWER ASSISTED STEERING; TYRE PRESSURE SENSOR; WITHOUT DECANTER FILTRE; 6-SPEED MANUAL GEARBOX; WITH FLOOR MATS; INTERIOR FINISH 06; RADIO NO 09; WITHOUT ADDITIONAL DEFINITION/WITHOUT LIMITED EDITION |
Build sheet / List of Basic Equipment
Extra:   


May include:

Title problems
Accidents
Total loss
Flood damage
Odometer problems
Service records
Frame damage
Airbag deployment
Vehicle registration
Recalls
and more...
Renault VIN decoder
|
Renault Laguna 2 2003 Specs and features
|
Renault problems, recalls and complaints
This is the Renault Laguna 2 VIN decoder. Every Renault car has a unique identifier code called a VIN. This number contains vital information about the car, such as its manufacturer, year of production, the plant it was produced in, type of engine, model and more. For instance, if someone wants to buy a car, it is possible to check the VIN number one the online database to ensure that the car was not stolen, damaged or illegally modified. The VIN number has a specific format that is globally recognized. This format was implemented by the ISO institute. Every car manufacturer is obliged to mark all its vehicles in this special format. This online service allows a user to check the validity of the car and get detailed information on almost any VIN number, search for Renault Laguna 2 car parts and check the car's history. The VIN also allows a user to check the market value of a new or used Renault Laguna 2.
What is VDS? VDS is a Vehicle Descriptor Section. VDS is used to specify a type of vehicle and may include information about the model, platform, engine and transmission.
What is VIN? VIN is a Vehicle Identification Number
What is VIS? VIS is a Vehicle Identifier Section
What is WMI? WMI is a World Manufacturer Identifier. The first three symbols identify the manufacturer of the car.
---