✅VF1JKFKCC48534675 Renault Espace 4 2004 VIN Decoder & Vehicle History Report
---
Renault Espace 4 2004 VIN Lookup Result:
---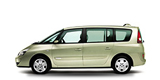 ---
| | |
| --- | --- |
| VIN: | VF1JKFKCC48534675 |
| WMI / VDS / VIS: | |
| Manufacturer: | Renault France |
| Brand: | Renault |
| Model: | Espace 4 |
| Engine: | N/A |
| Region/Plant: | Creil |
| Check: | C |
| Year: | 2004 |
| Sequential number: | 34675 |
| Approx. mileage: | |
Additional Information
| | |
| --- | --- |
| CarID | 1320 |
| Brand | RENAULT |
| ManufacturerId | 566 |
| Catalog | RENAULT201801 |
| Model | Espace IV |
| Name | Espace IV |
| ImageUrl | |
| Date | |
| Manufactured | 02 2013 |
| Engine | M9R859 |
| Drive | Левостороннее |
| EngineNo | C001804 |
| Options | Регулятор скорости движения: Система регулирования скорости RV; Система поддержания высоты кузова: Нет; Тип наружных зеркал заднего вида: RETREM-Два складывающихся наружных зеркала заднего вида с электроприводом и запоминанием регулировок; Дополнение ограниченной серии: SAN513; Тип дистанционного управления открыванием дверей: SOP03C; Технические и законодательные требования страны: TLPOLO; Цвет ветрового стекла: PBRA - Теплоизоляция; Система стабилизации траектории движения: Да; Декоративные колпаки колес: SSENJO; Конструкция дочерней торговой марки: SERIE; Тип передних сидений: SGAV09; Тонировка стекол: VSTLAR - Темная тонировка сбоку и сзади; Версия: LIN4DA180E5; Стекло с обогревом.: Да; Тип: Обычный; Материал колесных дисков: 17" aluminium wheel rims; Тип автомагнитолы: RAD05A; Тип двигателя: M9R; Заводской номер коробки передач: EHL001A; Управление расходом электроэнергии: AVESM; Усилитель рулевого управления: Да-Standard; Определение давления воздуха в шинах: DPRPN; Уровень двигателя: AK; Дополнительные фары: PROJAB - Fog lights; Приспособление для крепления багажа: SFIRBA — Без сетки для крепления багажа; Телефон: PRETEL-Radio telephone pre-equipment; Узел счетчика: Км; Подушка безопасности водителя: AIRBA2 - С подушкой безопасности пассажира и водителя; Задняя шторка: RIDO03 - Задняя шторка No. 3; Подголовник заднего сиденья: ATAR01 - Подголовник заднего сиденья 01; Уровень комплектации: E5; Тип коробки передач: AJ0; Обивка сидений (см. новую табличку или каталог запасных частей 101): Leather; Лакокрасочное покрытие кузова: NV676; Функция экстренного вызова и помощи: SSCALL - Без экстренного вызова и помощи; Тип системы кондиционирования воздуха.: Система кондиционирования воздуха № 5; Дополнение к комплектации: SAN913; Электромагнитное запирание замков дверей: Электромагнитная блокировка замков дверей; Радар системы помощи при парковке: RDAR02-Proximity radar 02; Тип заднего сиденья: 2SJSUP; Ходовые качества: 4x2; Климатический пояс: Умеренный климат; АБС: Да; Ксеноновая лампа: Ксеноновые лампы; Светодиодные фонари системы освещения дневного движения: FDIU1; Цветовая гамма салона: HARM05; Карты: MAPSUP - Superior maps; Код цвета (см. каталог запасных частей 101): NV676; Ремни безопасности: CEAV01; Подушка безопасности заднего пассажира: Да; Тип автомобиля: JK1K; Багажник на крыше / опоры багажника крыши: GALERI-Багажник на крыше; Вид топлива или энергии: Dieselное топливо; Марка шины: Стандартная установка; Length шасси: LONG-Длиннобазное шасси; Тип крыши: Стандартная; Накладка: SSDECA; Подогрев сидений: SGACHA - Подогрев переднего сиденья; Заводской номер автомобиля: SA75417; Усилитель тормозов: Система экстренного торможения; Тип и индекс коробки передач: AJ0100 |
| Complectation | PROXIMITY RADAR 02; AIRBAG LATERAL ARRIERE SUR 1 RANGEE; TYRE PRESSURE SENSOR; 2 ADDITIONAL REAR SEATS; TYPE 09 FRONT SEAT; MONOCORPS X81; FAMILLE X81; EMERGENCY BRAKE ASSIST; POWER ASSISTED STEERING; 4X2 TRANSMISSION; MOBILE TELEPHONE PRE-EQUIPMENT; STANDARD BODY SHELL ARCHITECTURE; WITHOUT EMERGENCY CALL FUNCTION; SUPERIOR MAPS; FRONT SEAT BELTS TYPE 1; ESP; WITHOUT STRIPPING; DISCHARGE LAMPS; REAR HEADREST 1; HARMONIE INTERIEURE 05; LEATHER NO 14; LEATHER SEAT COVERING; BUILT UP SPECIAL VEHICLE ORDER: WITHOUT SPECIAL VEHICLE ORDER; MODERATE CLIMATE; LEFT-HAND DRIVE; SIDE + REAR TINTED WINDOWS; HEATED REAR SCREEN; 17 ALUMINIUM WHEELS; WITH ENERGY SMART MANAGEMENT; DAYTIME RUNNING LIGHT TYPE1; STANDARD ROOF; FOG HEADLIGHTS; NO LUGGAGE RETAINING NET; DRIVER'S + PASSENGER'S FRONT AIRBAG; COUNTER UNITS IN KILOMETRES; RIDEAU ARRIERE NO3; MAKE OF TYRES: STANDARD TYRE; PEARLESCENT BLACK BODYWORK PAINT; DIESEL; AK ENGINE LEVEL; LONG CHASSIS; AIR CONDITIONING 05; 2 FOLDING EXTERIOR REAR-VIEW MIRRORS WITH STORAGE; EQUIPMENT LEVEL E5; ROOF RACK; ANTI-LOCK BRAKING SYSTEM; ELECTRIC DOOR LOCKING; WITHOUT SELF-LEVELLING SUSPENSION; HEAT INSULATING WINDSCREEN; CRUISE CONTROL; NO TRIM; DIRECTION INDICATORS WITH SIDE REPEATERS |
Build sheet / List of Basic Equipment
Extra:   


May include:

Title problems
Accidents
Total loss
Flood damage
Odometer problems
Service records
Frame damage
Airbag deployment
Vehicle registration
Recalls
and more...
Renault VIN decoder
|
Renault Espace 4 2004 Specs and features
|
Renault problems, recalls and complaints
This is the Renault Espace 4 VIN decoder. Every Renault car has a unique identifier code called a VIN. This number contains vital information about the car, such as its manufacturer, year of production, the plant it was produced in, type of engine, model and more. For instance, if someone wants to buy a car, it is possible to check the VIN number one the online database to ensure that the car was not stolen, damaged or illegally modified. The VIN number has a specific format that is globally recognized. This format was implemented by the ISO institute. Every car manufacturer is obliged to mark all its vehicles in this special format. This online service allows a user to check the validity of the car and get detailed information on almost any VIN number, search for Renault Espace 4 car parts and check the car's history. The VIN also allows a user to check the market value of a new or used Renault Espace 4.
What is VDS? VDS is a Vehicle Descriptor Section. VDS is used to specify a type of vehicle and may include information about the model, platform, engine and transmission.
What is VIN? VIN is a Vehicle Identification Number
What is VIS? VIS is a Vehicle Identifier Section
What is WMI? WMI is a World Manufacturer Identifier. The first three symbols identify the manufacturer of the car.
---