✅ MPATFS85HBT104990 Isuzu D-Max 2011 VIN Decoder & Vehicle History Report
---
Isuzu D-Max 2011 VIN Lookup Result:
---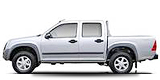 ---
| | |
| --- | --- |
| VIN: | MPATFS85HBT104990 |
| WMI / VDS / VIS: | |
| Manufacturer: | Isuzu Chevrolet Motors Company Limited Thailand |
| Brand: | Isuzu |
| Model: | D-Max |
| Engine: | N/A |
| Check: | H |
| Year: | 2011 |
| Sequential number: | 04990 |
| Approx. mileage: | |
Additional Information
| | |
| --- | --- |
| CarID | 51194 |
| Brand | ISUZU |
| ManufacturerId | 538 |
| Catalog | ISUZU201702 |
| Model | |
| Name | TFR/TFS-RHD |
| ImageUrl | |
| Date | |
| Actual | |
| KolCount | 0 |
| KolComment | |
| Modeltype | PICKUP |
| Modelseries | TF |
| Vininfo | Production Date: 20110615 |
| Rpocodes | 101: INTERIOR COLOR BLACK; 520: BODY COLOR NEBULA GRAY MICA; 7KC: IMMOBILIZER SYSTEM; 7NU: DRIVER SIDE FOOT REST; 7WE: SKID PLATE; 7WL: ISUZU BRAND; 7XW: SIDE TURN SIGNAL LAMP; 8AA: GOOD QUALITY ETHYLENE GLYCOL ANTIFREEZE 50%; 8CW: LOCK END GATE; 8KX: ZETAI NOSENAI; 8LH: HEADLAMPS PROJECTOR BEAM; 8LM: SEAT TRIM HIGH GRADE CLOTH JACQUARD; 8MB: INTERIOR STEERING CENTER PAD BADGE; A31: DRIVER POWER WINDOW W/AUTO DOOR DOWN; A50: FRONT SEAT BUCKET STANDARD; A70: SEAT BELT TENSIONER FRT; A99: LOCK GLOVE BOX; AK5: AIR BAG DRIVER & PASSENGER; AP5: REMOTE CONT DOOR LOCK KEYLESS ENTRY WITH BCM; AU4: AUTO DOOR LOCK; B13: AUSTRALIA EQUIPMENT; B30: VINYL CARPET; B74: OVER FENDER; BY9: KNOB DECORATION W/CHROME RING; BZD: FRT&RR 245/70R16 A/T PATTERN D693; C49: REAR DEFOGGER; C60: AIR CONDITIONER MANUAL CONTROL; CD4: VARIABLE DELAY PULSE WINDSHIELD WIPER; D31: RR VIEW MIRROR TILT DAY & NIGHT; D34: SUNVISOR PASSENGER SIDE W/VANITY MIRROR; D55: FRONT CONSOLE W/LID; DE3: DOOR MIRROR POWER FOLDING CHROME TURN SIGNAL; DK6: HEADER CONSOLE; E20: HANDLE O/S DOOR CHROME; E28: ASSIST HANDLE; E63: REAR BODY DBL WALL CTR PULL; E91: FRONT SEAT BACK POCKET; G80: AXLE POSITRACTION LIMITED SLIP; GT4: FINAL GEAR RATIO 41/11; JE5: ANTI-LOCK BRAKE-'93'94-; K20: ELECTRONIC CONTROL; K30: MECHANICAL AUTO CRUISE; K46: HEAVY DUTY AIR CLEANER; KC5: ACCESSORY SOCKET FRT CONSOLE; N08: FUEL LID OPENER; N33: TILT STEERING; N40: POWER STEERING; NP5: LEATHER-WRAPPED STEERING WHEEL 4SPOKES; NR4: SHIFT ON THE FLY; NT4: EURO4 SPECIFICATION; NY1: FUEL TANK SHIELD; PX0: DISC WHEEL 16X7 ALUMI SILVER; T63: HEAD LAMP WARNING ALARM; T96: FRT FOG LAMP; TQ8: BATTERY 95D31L; TS6: HIGH MOUNT STOP LAMP; U05: DUAL TONE HORN; U16: TACHOMETER; U27: LAMP GLOVE COMPARTMENT; U71: ROOF RADIO ANTENNA; UCA: ELECTRO LUMINESCENT INSTRUMENTATION CLUSTER; UE8: ELECTRIC DIGITAL CLOCK; UJH: OUTSIDE TEMPERATURE GAGE; ULA: RADIO AM/FM & CD & AUX/USB; UW5: 6-SPEAKER SYSTEM BASE; V22: BRIGHT RAD GRILLE; V2K: DECAL ISUZU D-MAX; V42: REAR STEP BUMPER CHROME; VT4: COLOR KEYED BUMPER; VY7: SHIFT KNOB LEATHER |
| Equipmentname | TFR/TFS-RHD 09 - 11 |
| Modelyearfrom | 2009 |
| Modelyearto | 2011 |
Build sheet / List of Basic Equipment
Extra:   


May include:

Title problems
Accidents
Total loss
Flood damage
Odometer problems
Service records
Frame damage
Airbag deployment
Vehicle registration
Recalls
and more...
Isuzu VIN decoder
|
Isuzu D-Max 2011 Specs and features
|
Isuzu problems, recalls and complaints
This is the Isuzu D-Max VIN decoder. Every Isuzu car has a unique identifier code called a VIN. This number contains vital information about the car, such as its manufacturer, year of production, the plant it was produced in, type of engine, model and more. For instance, if someone wants to buy a car, it is possible to check the VIN number one the online database to ensure that the car was not stolen, damaged or illegally modified. The VIN number has a specific format that is globally recognized. This format was implemented by the ISO institute. Every car manufacturer is obliged to mark all its vehicles in this special format. This online service allows a user to check the validity of the car and get detailed information on almost any VIN number, search for Isuzu D-Max car parts and check the car's history. The VIN also allows a user to check the market value of a new or used Isuzu D-Max.
What is VDS? VDS is a Vehicle Descriptor Section. VDS is used to specify a type of vehicle and may include information about the model, platform, engine and transmission.
What is VIN? VIN is a Vehicle Identification Number
What is VIS? VIS is a Vehicle Identifier Section
What is WMI? WMI is a World Manufacturer Identifier. The first three symbols identify the manufacturer of the car.
---