✅ KPTT0A1KS6P040272 SsangYong Kyron 2006 VIN Decoder & Vehicle History Report
---
SsangYong Kyron 2006 VIN Lookup Result:
---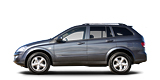 ---
| | |
| --- | --- |
| VIN: | KPTT0A1KS6P040272 |
| WMI / VDS / VIS: | |
| Manufacturer: | SsangYong Motor Co Ltd Korea |
| Brand: | SsangYong |
| Model: | Kyron |
| Engine: | D20DT |
| Region/Plant: | N/A |
| Check: | S |
| Year: | 2006 |
| Sequential number: | 40272 |
| Approx. mileage: | |
Additional Information
| | |
| --- | --- |
| CarID | 0 |
| Brand | SSANGYONG |
| ManufacturerId | 639 |
| Catalog | SY201502 |
| Model | D100 EXP-5P STD 2005M/Y |
| Name | KYRON |
| ImageUrl | |
| Date | 05.07.2006 |
| Actual | |
| KolCount | 0 |
| KolComment | |
| Options | [4--] CLIMATE: TEMPERATE [B00] DRIVE HDL TYPE: RHD [K50] AIR SPOILER: DLX-AIR SPOIL OVERHEAD CONSOLE: DLX-O/CONSOLE CTR CONSOLE: W/ BRAKE [K42] O/S DR HDL: B/COLOR-DR HDL [K35] FASHION RAIL: BLACK-FASHION RAIL [K30] SIDE GARNISH: NARROW GARN [K29] MUD GUARD: NON-MUD/G [K27] WAISTLINE MOLDING: B/COLOR-WAISTLINE MLDG [K22] O/S RR V/MIRR HOUSING: B/COLOR-OSRM HSG CTR CONSOLE PATTERN: NON I/S DR HDL: SUS-I/S DR HDL SUNVISOR: STD-S/VISOR [L18] QTR GLASS: TINTED-QTR GLS [L20] RR GLASS: TINTED-T/GATE GLS [L15] RR DR GLASS: TINTED-SIDE GLS [L00] WIND SHIELD GLASS: TINTED-W/SHLD GLS I/S RR VIEW MIRROR: DAY&NIGHT-I/S MIRR VISUAL VIN LABEL: VISUAL VIN LABEL [K20] O/S RR VIEW MIRROR: MNL FOLD-ELEC CONT&HEAT-OSRM [K05] BUMPER: B/COLOR-BPR [J17] TIRE PRESS. M/SYSTEM: NON-TPMS [J15] SPARE TIRE: TEMPORARY II [J10] TIRE: P225/75R16 [J00] WHEEL: AL 6.5JX16(A) [H30] PARKING BRAKE: HDL-P/BRAKE [E00] TRANSMISSION: M/T-5SHFT [D20] WATER SEPARATOR: WATER SEDIMENTOR (O) [D01] FUEL ADDITION: NON-CONCERN [C40] COOLING FAN: VISCO FAN [C10] ALTERNATOR: 140A-ALT [C08] EMISSION REGULATION: EURO-III [C06] CRUISE CONTROL: NON-CRUISE CONT [C00] ENGINE: D20DT [3--] AREA: GENERAL EXPORT [H10] SERVICE BRAKE: ABS [H00] RR BRAKE: DISC [G40] ELECTRIC SUSPENSION: NON-ELEC CONT SUSP [G10] RR SUSPENSION: 5-LINK [F10] STEERING WHEEL: LEATHER-S/WHL [F00] STEERING: MNL TILT-P/STRG [E50] LIMITED SLIP DIFFER.: NON-LSD [E20] AXLE RATIO: 4.27-RR RATIO [E10] TRANSFEERCASE: 2WD [A40] REGION: EXP [A00] CAR SERIES: D-CAR [A10] BODY TYPE: MPV [A20] PASSENGER: 5 PASS [A30] TRIM LEVEL: STD [2--] PROJECT: 2005 M/YEAR LUGGAGE NET: LUGGAGE NET FIRE EXTINGUISHER: NON-FIRE EXTINGUISHER [S46] RR WIPER: CONST-RR WPR [S45] FRT WIPER: SPEED SENSE-FRT WPR [S40] PARKING AID SYSTEM: NON-PAS [S38] STICS: STICS [S37] HANDS FREE: NON-HANDS FREE [S36] HORN: DUAL HORN [S35] SUN ROOF: NON-SUN ROOF [S34] BURGLAR ALARM: NON-BURG ALARM [S33] KEY ILLUMINATION: HOLE ILLUM [3--] SPECIAL REGION: GENERAL [U35] STEERING WHEEL REMOCON: NON-REMOCON [U33] VIDEO ANTENNA: NON-GPS&TV&CDMA ANT [U24] EVERWAY: NON-STAR UNIT [U11] NAVIGATION: NON-NAVIGATION [U10] AV SYSTEM: NON-AV SYS [U05] SPEAKER: 6 SPEAKER [U02] ADDITIONAL CHANGER: NON-CHANGER [U00] AUDIO: BLANK COVER-AUDIO [T11] AIR CONDITIONER: MNL-SINGLE A/CON [T10] AIR COMPRESSOR: A/CON [T05] HEATING DEVICE: NON-FFH [T00] HEATER: SINGLE HTR-PTC [S32] IMMOBILIZER: NON-IMMO [S30] REMOTE KEYLESS ENTRY: NON-REKS [S25] RR UNDER VIEW CAMERA: NON-CAMERA [S13] SIDE REPEATER: AMBER-SIDE REPEATER [S15] DRV. WINDOW OPERATING: PWR WINDOW-1 TOUCH DN-DRV [S12] HIGH MOUNTED STOP LAMP: LED-HMSL [S11] DAYTIME RUNNING LIGHT: NON-DAYTIME RUNN'G LIGHT [Q11] PASSENGER SEAT BELT: ELR P/T+L/LIMIT-PASS [Q10] DRIVER SEAT BELT: ELR P/T+L/LIMIT-DRV [Q00] AIR BAG: DUAL-A/BAG [N50] SEAT COVER: F/WOVEN II-S/COVER [N45] SEAT HEATING: NON-S/HEATING [N20] RR 1st SEAT: INDIVIDUAL-1st/SEAT [N10] PASSENGER SEAT: MNL-H/REST TILT-P/SEAT [N00] DRIVER SEAT: MNL-H/REST TILT-D/SEAT TRANSMISSION KNOB: URETHANE-T/M KNOB [S10] AUTO LIGHT CONTROL: NON-AUTO LIGHT CONT [S03] RR FOG LAMP: NON-RR FOG LAMP [S00] HEAD LAMP: LEVEL'G-PROJ [R30] OVER SPEED BELL: NON-OVER SPEED [R20] HAZARD INDICATOR: NON-HAZARD [R00] COMBI METER: KPH-S/METER [Q15] CHILD ANCHOR: NON-CHILD ANCHOR [Q13] RR 2nd SEAT BELT: NON-2nd [Q12] RR 1st SEAT BELT: 3P*3-1st WARNING TRIANGLE: WARNING TRIANGLE (X) LUGGAGE COVER: LUGGAGE COVER DR TRIM: LEATHER-DR TRIM LUGGAGE TRAY: CTR L/TRAY SERVICE MAT: SERVICE MAT BARRIER NET: BARRIER NET |
| Vin | KPTT0A1KS6P040272 |
| Rear_axle_no | 6500GS6530010E |
| Market | EXPORT |
| Engine | D20D-011 |
| Engineno | 664 950 20_513383 |
| Transmissionno | MAD260500250 |
| Drive | R |
| Framecolor | ABQ - DARK GRAY |
| Trimcolor | LAK - SPACE BLACK |
| Variant | D20 |
Build sheet / List of Basic Equipment
Extra:   


May include:

Title problems
Accidents
Total loss
Flood damage
Odometer problems
Service records
Frame damage
Airbag deployment
Vehicle registration
Recalls
and more...
SsangYong VIN decoder
|
SsangYong Kyron 2006 Specs and features
|
SsangYong problems, recalls and complaints
This is the SsangYong Kyron VIN decoder. Every SsangYong car has a unique identifier code called a VIN. This number contains vital information about the car, such as its manufacturer, year of production, the plant it was produced in, type of engine, model and more. For instance, if someone wants to buy a car, it is possible to check the VIN number one the online database to ensure that the car was not stolen, damaged or illegally modified. The VIN number has a specific format that is globally recognized. This format was implemented by the ISO institute. Every car manufacturer is obliged to mark all its vehicles in this special format. This online service allows a user to check the validity of the car and get detailed information on almost any VIN number, search for SsangYong Kyron car parts and check the car's history. The VIN also allows a user to check the market value of a new or used SsangYong Kyron.
What is VDS? VDS is a Vehicle Descriptor Section. VDS is used to specify a type of vehicle and may include information about the model, platform, engine and transmission.
What is VIN? VIN is a Vehicle Identification Number
What is VIS? VIS is a Vehicle Identifier Section
What is WMI? WMI is a World Manufacturer Identifier. The first three symbols identify the manufacturer of the car.
---