✅JMFLYV98WFJ002452 Mitsubishi Pajero 2015 VIN Decoder & Vehicle History Report
---
Mitsubishi Pajero 2015 VIN Lookup Result:
---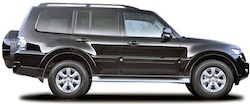 ---
| | |
| --- | --- |
| VIN: | JMFLYV98WFJ002452 |
| WMI / VDS / VIS: | |
| Manufacturer: | Mitsubishi Japan |
| Brand: | Mitsubishi |
| Model: | Pajero |
| Check: | W |
| Year: | 2015 |
| Sequential number: | 02452 |
| Approx. mileage: | |
Additional Information
| | |
| --- | --- |
| CarID | 0 |
| Brand | MITSUBISHI |
| ManufacturerId | 555 |
| Catalog | MMC201806 |
| Model | V98W |
| ImageUrl | |
| Date | 01.10.2014 |
| Modification | 3200D-TURBO/LONG WAGON<07M-> - GLX(NSS4/EURO4),S5FA/T |
| Date | 10.2014 |
| Trimcolor | 17X |
| Framecolor | W23C |
| Paint | W23 |
| Options | N81: DIFF LOCK; AL/WHL; LEATHER COVER STEERING WHEEL; STEERING AUDIO SWITCH; AUDIO SYSTEM (3); SHIFT KNOB (LEATHER); SPECIAL PRINT PANEL; COVER; PRIVACY GLASS; AIR DEFLECTER; DOOR MIRROR (NORMAL TYPE FIXED); SIDE STEP; FRONT SKID PLATE; LICENSE PLATE GARNISH (COLOR KEY); BRIGHT RADIATOR GRILLE; BLACK DOOR SASH; ЛАMTА ПР.ТУМ. ФАРЫ; HEADLAMP WASHER (JET TYPE); REAR DISPLAY PRE KIT; DISCHARGE HEADLAMP; TEL COMMUNICATION SYSTEM; TEL COMMUNICATION SYSTEM (B); DUAL AUTO A/C; LSD, DIFF LOCK + DISCHARGE H/LAMP; LEA STRG/WHL+STRG AUDIO SWITCH+TEL COM SYS; SPECIAL PRINT PANEL + COVER; SPECIAL PRINT PANEL + D/MR (NORMAL TYPE FIXED); SPECIAL PRINT PANEL + D/MR (NORMAL TYPE FIXED); COVER+NOISE INSULATOR+RR COOLER,DUAL AUTO A/C; LICENSE PLATE GARNISH+AUDIO SYS,MULTI VISION,NAVI; AIR DEFLECTER + LICENSE PLATE GARNISH (COLOR KEY); BRT RAD GRL + FOG LAMP + H/LP WASHER(JET TYPE); ROOF CARRIER ATTACHMENT; NOISE INSULATOR (C); DVD VIDEO REGION (4) |
| Frames | V90# |
Build sheet / List of Basic Equipment
Extra:   


May include:

Title problems
Accidents
Total loss
Flood damage
Odometer problems
Service records
Frame damage
Airbag deployment
Vehicle registration
Recalls
and more...
Mitsubishi VIN decoder
|
Mitsubishi Pajero 2015 Specs and features
|
Mitsubishi problems, recalls and complaints
This is the Mitsubishi Pajero VIN decoder. Every Mitsubishi car has a unique identifier code called a VIN. This number contains vital information about the car, such as its manufacturer, year of production, the plant it was produced in, type of engine, model and more. For instance, if someone wants to buy a car, it is possible to check the VIN number one the online database to ensure that the car was not stolen, damaged or illegally modified. The VIN number has a specific format that is globally recognized. This format was implemented by the ISO institute. Every car manufacturer is obliged to mark all its vehicles in this special format. This online service allows a user to check the validity of the car and get detailed information on almost any VIN number, search for Mitsubishi Pajero car parts and check the car's history. The VIN also allows a user to check the market value of a new or used Mitsubishi Pajero.
What is VDS? VDS is a Vehicle Descriptor Section. VDS is used to specify a type of vehicle and may include information about the model, platform, engine and transmission.
What is VIN? VIN is a Vehicle Identification Number
What is VIS? VIS is a Vehicle Identifier Section
What is WMI? WMI is a World Manufacturer Identifier. The first three symbols identify the manufacturer of the car.
---