✅ 3GNCJLSB0KL164419 Chevrolet Trax LTZ 2019 VIN Decoder & Vehicle History Report
---
Chevrolet Trax 2019 VIN Lookup Result:
---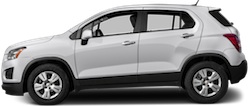 ---
| | |
| --- | --- |
| VIN: | 3GNCJLSB0KL164419 |
| WMI / VDS / VIS: | |
| Manufacturer: | Chevrolet GM Mexico |
| Brand: | Chevrolet |
| Model: | Trax |
| Region/Plant: | N/A |
| Check: | 0 |
| Year: | 2019 |
| Sequential number: | 64419 |
| Approx. mileage: | |
Recalls and Complaints:
| | | | |
| --- | --- | --- | --- |
| Campaign # | Date | Component | Initiator |
| 18V774000 | 05/11/18 | AIR BAGS | MFR |
| 18V774000 | 05/11/18 | AIR BAGS AIR BAG/RESTRAINT CONTROL MODULE | MFR |
| 19V312000 | 19/04/19 | SUSPENSION FRONT CONTROL ARM LOWER BALL JOINT | MFR |
Problems and Issues:
| | | | | | |
| --- | --- | --- | --- | --- | --- |
| Issue ID | Failed | Component | Miles | City/State | VIN Pattern |
| 1596672 | 25/04/19 | SUSPENSION | | SNYDER, TX | 3GNCJLSB0HL |
| 1603710 | 19/09/19 | UNKNOWN OR OTHER | | PHILADELPHIA, PA | 3GNCJLSB0HL |
| 1583996 | 02/07/19 | SUSPENSION | | CORNVILLE, GA | 3GNCJLSB0JL |
Additional Information
| | |
| --- | --- |
| CarID | 640606322 |
| Brand | CHEVROLET |
| ManufacturerId | 792 |
| Catalog | GM_C201809 |
| Model | |
| Name | Trax |
| ImageUrl | |
| Date | |
| Actual | |
| KolCount | 0 |
| KolComment | |
| Model_year | 2019 |
| Vin | 3GNCJLSB0KL164419 |
| Production_date | 01.09.2018 |
| Engine | (LUV) ENGINE GAS, 4 CYL, 1.4L, MFI, DOHC, TURBO, VVT, ALUM, GME E85 MAX |
| Transmission | (MNK) TRANSMISSION AUTO 6 SPD, 6T40, GEN3 |
| Model_code | J,1JV76 |
| Rpo | RECEPTACLE ELECTRICAL, FRT CONSOLE RR 110 VOLT; ACCESSORY FLOOR MATS - ALL WEATHER; ACCESSORY MAT - TRUNK / CARGO AREA; ADJUSTER,SEAT,4-WAY MANUAL,DRIVER; ALARM REMOTE PANIC; ARM REST,FRT SEAT,DRIVER; ANTENNA ROOF, RADIO, GPS, PHONE, S BAND XM; ADJUSTER SEAT, MANUAL, 2 WAY, VERT, PASS; VIN IDENT POSITION, MULTI- PURPOSE VEHICLE; BATTERY 60 AH; BRAKE SYSTEM,POWER FRONT DISC,REAR DRUM,ANTI-LOCK(CAST IRON); BUMPER 5.0 MPH; BOOSTER BRAKE, SINGLE RATE; MOLDING B/S ANTHRACITE; CALIBRATION TCM, NEUTRAL IDLE CONTROL; CAMERA REAR VIEW; CRUISE CONTROL,AUTOMATIC,ELECTRONIC; PAINT TWO COAT, BASE COAT & CLEAR COAT; PRIMARY COLOR EXTERIOR, BLUE STEEL MET-1 (424C); FEDERAL EMISSION CERTIFICATION; PLATE VEHICLE IDENTIFICATION - VISUAL (GMDAT); VIN FORMAT U.S. TYPE; CHASSIS PACKAGE LONG CRADLE; REFRIGERANT AIR CONDITIONING; COOLANT,MAXIMUM ENGINE PROTECTION; COVER, RR COMPT HARD FOLDING, RR COMPT, CARGO; COMMUNICATION SYSTEM VEHICLE, G.P.S. 1; COMMUNICATION EQUIP MOBILE INTERNET CONNECTIVITY; DISPLAY COMPASS; CONTROL STEERING WHEEL, RADIO & PHONE, REDUNDANT CONTROLS; COUNTRY UNITED STATES OF AMERICA (USA); DIGITAL AUDIO SYSTEM S-BAND; DISPLAY INSTRUMENT DRIVER INFO ENHANCED (ONE COLOR GRAPHIC); LAMP DAYTIME RUNNING, SEPARATE CAVITY, LED; VEHICLE DRIVE LEFTHAND DRIVE; TRIM DOOR PVC LEATHER, PURISME; EMISSION SYSTEM FEDERAL, TIER 3; EQUIPMENT IIHS IMPROVEMENT; EQUIPMENT SKID PLATE, FASCIA, SILVER; CONTROL ACTIVE BRAKE; ENGINEERING YEAR 2019; PACKAGE OPTION-; CONTROL SALES ITEM NO. 125; CONTROL - SALES ITEM NO. 89; COVERING,FLOOR MATS,FRONT AUXILIARY; COVERING,FLOOR MATS,REAR AUXILIARY; COMPONENT FRT LH NON-COMPUTER SEL SUSP; FILTER AIR, POLLUTANT; FREQUENCIES RATING 315 MHZ; COMPONENT FRT RH NON-COMPUTER SEL SUSP; FUEL SYSTEM ELECTRONIC, RETURNLESS; GENERATOR 130 AMP; WINDSHIELD STYLE ACOUSTIC PVB; GVW RATING 1944 KG (4286 LBS); HEADLAMPS CONTROL AUTOMATIC ON-OFF; EQUIPMENT HEADLAMPS, PROJECTION TYPE; HANDLE ASSIST,PASS; HANDLE,ASSIST; HANDLE O/S,DR,BODY COLOR; HORN,SINGLE NOTE; RESTRAINT HEAD, FRT SEAT, UP/DOWN ADJUSTMENT; AIR CONDITIONER,FRONT,MANUAL CONTROLS; TRIM SEAT CLOTH, RAVINE; INDICATOR SEAT BELT WARNING , LH; INDICATOR SEAT BELT WARNING , RH; INTERIOR TRIM CONFIG #44; JACK MECHANICAL W/TOOLS; KNOB TRANS CONT LEVER, SATIN SILVER, CHROME; RESTRAINT KNEE, BOLSTER, LH/RH; LOCK CONTROL, ENTRY REMOTE ENTRY, STANDARD RANGE; LAMP RR TAIL, LED; LUGGAGE CARRIER RF RAIL; MARKETING AREA NORTH AMERICA, PUERTO RICO/USVI; MIRROR O/S LH & RH, REM CONT, ELEC, MANUAL FOLDING HEATED, COLOR; MIRROR I/S FRT VAN SUNSHADE, DRIVER & PASS, W/MIRROR & COVER; MERCHANDISED TRANS AUTO EQUIPMENT; VAA/COMPONENT REL REAR SEAT FOURTH ROW; VAA/COMPONENT REL REAR SEAT FIFTH ROW; ORNAMENTATION EXTR, PLR APLQ, REVEAL, BLACK; ORNAMENTATION LETTERING "LT"; ORNAMENTATION LETTERING, "TRAX"; PLANT CODE SAN LUIS POTOSI, MEXICO; RATIO TRANSAXLE FINAL DRIVE 3.53; RADIO INFOTAINMENT SYSTEM - 3.0 LOW HMI, MIDLEVEL CONNECTIVITY 3.0; RESTRAINT PROVISIONS CHILD, ISOFIX 2 POINT ONLY,POINT/LATCH(INC 3 TOP; RESTRAINT,SEAT BELT TENSIONER,FRT,VAR. 2; RESTRAINT SYSTEM SEAT, INFLATABLE, DRIVER & PASS FRT, FRT SEAT SIDE & RR SEAT SIDE, ROOF SIDE, KNEE; COMPONENT RR LH NON-COMPUTER SEL SUSP; COMPONENT RR RH NON-COMPUTER SEL SUSP; RESTRAINT,SEAT BELT TENSIONER,FRT; RESTRAINT SYSTEM SEAT, PASS, RETR, 3 POINT, LOAD LIMIT; RESTRAINT SYSTEM SEAT, DRIVER, RETR, 3 POINT, LOAD LIMIT; RESTRAINT SYSTEM,REAR SEAT,SHOULDER,RETENTION,3-POINT; CONTROL REMOTE ENGINE START; THEFT DETERENT ELECTRICAL, UNAUTHORIZED ENTRY; SEAT RR BENCH, 60/40 SPLIT BACK, FOLDING; MIRROR,INSIDE,REARVIEW,TILT; STEERING COLUMN,TILT AND TELESCOPING; PROTECTOR FILM, PAINT ETCH PREVENTIVE; SALES PROCESSING-STOCK ORDERS; KEY PRIMARY FOLDABLE, ADDITIONAL FOLDABLE; SPEEDOMETER INST, MILES & KILO, MILES ODOMETER; PACKAGE LT OPTION 1; SPEAKER SYSTEM,PERFORMANCE ENHANCED AUDIO; TIRE SPARE T125/70D16 SL 96M BW SPR; STEERING POWER, NON-VARIABLE RATIO, ELECTRIC; SUSPENSION SYSTEM,RIDE AND HANDLING; SEAT,FRONT BUCKET,DRIVER,PASSENGER,MANUAL RECLINING(EUROPEAN STYLE); SEAT BACK FOLDING, FLAT, RH; COMPARTMENT,FRONT SEAT STOWAGE,PASSENGER; TRAY LOAD FLOOR, STORAGE, TWO-PIECE; POCKET FRONT SEAT BACK, DRIVER; STEERING WHEEL,3-SPOKE; TRIM COLOR DR PANEL JET BLACK; TIRE ALL P205/70R16 SL 96H BW AL2; TRIM COLOR SEAT JET BLACK; INTERIOR TRIM JET BLACK; TIRE PRESS INDICATOR MANUAL LEARN; RECEPTACLE DUAL USB, SINGLE AUX; VAA/COMPONENT REL FRONT SEAT ROW; VAA/COMPONENT REL REAR SEAT SECOND ROW; VAA/COMPONENT REL REAR SEAT THIRD ROW; VALUE ADDED ASM COCKPIT; VALUE ADDED ASM ROOF TRIM; VALUE ADDED ASM STEERING COLUMN; VEHICLE STATEMENT US; IDENTIFICATION-GM ACCESSORIES-LIMITED PERSONALIZATION OPTION/LPO; VEHICLE FUEL GASOLINE E15; VALUE ADDED ASM FRONT HORIZONTAL SUSPENSION; VIN MODEL YEAR 2019; SENSOR INDICATOR INFLATABLE RESTRAINT, FRT PASS/CHILD PRESENCE DETECTOR; SHIFTER INTERLOCK BRAKE, TRANS; VALUE ADDED ASM REAR SUSPENSION; VAA/COMPONENT REL TIRES & WHEELS; VALUE ADDED ASM FRONT VERTICAL SUSPENSION; WHEEL 16 X 6.5, J, ALUMINUM, DESIGN 1; WHEEL SPARE 16 X 4.0, T, STEEL, DESIGN 1; PARTS PKG EXPORT; WINDOW TYPE PRIVACY; WINDOW POWER OPERATED, PASSENGER, EXPRESS DOWN; WINDOW POWER OPERATED, RR DRS, EXPRESS DOWN; WINDOW PWR OPERATED-EXPRESS UP/DOWN DRVR; WIPER SYSTEM,REAR WINDOW; WINDSHIELD TYPE SOLAR ABSORBING |
Build sheet / List of Basic Equipment
Extra:   


May include:

Title problems
Accidents
Total loss
Flood damage
Odometer problems
Service records
Frame damage
Airbag deployment
Vehicle registration
Recalls
and more...
Chevrolet VIN decoder
|
Chevrolet Trax 2019 Specs and features
|
Chevrolet problems, recalls and complaints
This is the Chevrolet Trax VIN decoder. Every Chevrolet car has a unique identifier code called a VIN. This number contains vital information about the car, such as its manufacturer, year of production, the plant it was produced in, type of engine, model and more. For instance, if someone wants to buy a car, it is possible to check the VIN number one the online database to ensure that the car was not stolen, damaged or illegally modified. The VIN number has a specific format that is globally recognized. This format was implemented by the ISO institute. Every car manufacturer is obliged to mark all its vehicles in this special format. This online service allows a user to check the validity of the car and get detailed information on almost any VIN number, search for Chevrolet Trax car parts and check the car's history. The VIN also allows a user to check the market value of a new or used Chevrolet Trax.
What is VDS? VDS is a Vehicle Descriptor Section. VDS is used to specify a type of vehicle and may include information about the model, platform, engine and transmission.
What is VIN? VIN is a Vehicle Identification Number
What is VIS? VIS is a Vehicle Identifier Section
What is WMI? WMI is a World Manufacturer Identifier. The first three symbols identify the manufacturer of the car.
---