✅ 3G5DB03765S507271 Buick Rendezvous 2005 VIN Decoder & Vehicle History Report
---
Buick Rendezvous 2005 VIN Lookup Result:
---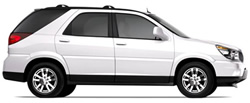 ---
| | |
| --- | --- |
| VIN: | 3G5DB03765S507271 |
| WMI / VDS / VIS: | |
| Manufacturer: | Buick GM |
| Brand: | Buick |
| Model: | Rendezvous |
| Region/Plant: | Orion Michigan United States |
| Check: | 6 |
| Year: | 2005 |
| Sequential number: | 07271 |
| Approx. mileage: | |
Recalls and Complaints:
| | | | |
| --- | --- | --- | --- |
| Campaign # | Date | Component | Initiator |
| 06V417000 | 01/11/06 | AIR BAGS FRONTAL | MFR |
| 07E021000 | 12/03/07 | FUEL SYSTEM, OTHER STORAGE TANK ASSEMBLY PRES | MFR |
Additional Information
| | |
| --- | --- |
| CarID | 919110433 |
| Brand | BUICK |
| ManufacturerId | 792 |
| Catalog | GM_B201809 |
| Model | |
| Name | Rendezvous |
| ImageUrl | |
| Date | |
| Actual | |
| KolCount | 0 |
| KolComment | |
| Vin | 3G5DB03765S507271 |
| Model_year | 2005 |
| Engine | (LY7) ENGINE ГАЗ, 6 Cyl, 3.6L (ОБЪЕМ 220 КУБИЧЕСКИХ ДЮЙМОВ), ПОСЛЕДОВАТЕЛЬНЫЙ ВПРЫСК ТОПЛИВА, V6, Aluminium, 60 ГРАДУСОВ, GENERAL MOTORS |
| Transmission | (M76) TRANSMISSION AUTO 4 SPD, HMD, 4T65-E PTU, O/D |
| Model_code | B,4BT26 |
| Rpo_codes | AG1 (ADJUSTER FRT ST POWER, MULTI-DIRECTIONAL, DRIVER); U76 (ANTENNA,WINDSHIELD); AG2 (ADJUSTER PASS ST POWER, MULTI-DIRECTIONALADJUSTER,SEAT,6-WAY POWER,SPLIT BENCH,PASSENGER); WW4 (APPEARANCE PACKAGE(LOWER ACCENT- LT SANDRIFT)); JL9 (BRAKE SYSTEM,POWER,FRONT AND REAR DISC,ANTILOCK); 97U (EXTERIOR COLOR,PRIMARYEXTERIOR COLOR- PRIMARY, BLACK WALNUT, MET); FE9 (FEDERAL EMISSION CERTIFICATION); UE1 (COMMUNICATION SYSTEM VEHICLE, G.P.S. 1); UH9 (CLUSTER,INSTRUMENT(TEMPERATURE,TRIP ODOM,TACH OR INFO CTR); U2K (DIGITAL AUDIO SYSTEM S-BAND); NT9 (EMISSION SYSTEM FEDERAL, TIER 2 PHASE-OUT); 1SZ (PACKAGE OPTION-); R6J (CONTROL SALES ITEM NO. 10); 6BC (SPRING COMPTR SELECT FRT LH); 7BC (SPRING COMPTR SEL FRT RH); KG7 (GENERATOR 125 AMP); C4N (GVW RATING 5,534 LBS/2,510 KG); CJ2 (HVAC SYSTEM AIR CONDITIONER FRT, AUTO TEMP CONT, AUX TEMP CONT); KA1 (HEATER - SEAT); IP2 (TRIM,INTERIOR DESIGN); UJ6 (INDICATOR,LOW TIRE PRESS); V54 (CARRIER,ROOF LUGGAGE(PAINTED)); A43 (ADJUSTER,SEAT,POWER,DRIVER MEMORY(INCLUDES MIRROR)); DE5 (MIRROR,OUTSIDE,LH & RH,REMOTE CONTROL,ELECTRIC,DEFOG,FOLDING,PAINTED); DH6 (MIRROR,INSIDE,VISOR VANITY,RH AND LH(ILLUM)); MX0 (TRANSMISSION,AUTOMATIC,OVERDRIVE(MERCHANDISING OPTION)); B20 (ORNAMENTATION,INTERIOR(LUXURY)); BA5 (ORNAMENTATION,EXTERIOR(CUSTOM)); VH9 (ENVELOPE,OWNER INFORMATION MANUAL); SAL (PLANT CODE- RAMOS ARIZPE, MEXICO GM DE MEXICO); UD7 (SENSOR INDICATOR NEAR OBSTACLE DETECTION/REAR PARKING ASSIST); JJA (PT DRESS SUBASSEMBLY INSTALLED (MODULAR OPTIMIZATION METHOD ONLY)); FR9 (RATIO TRANSAXLE FINAL DRIVE 3.29); GQ1 (AXLE,REAR,STANDARD RATIO(MERCHANDISING OPTION)); YB6 (AXLE,FRONT(BASE EQUIPMENT)); UK6 (RADIO CONTROL REAR SEAT & EARPHONE JACKS); CF5 (ROOF,SUN,GLASS SLIDING,ELECTRIC); U1Q (RADIO AM/FM STEREO,SK/SCAN,AUTO REV,MUSIC SRCH CASS CD, CLCK); AJ7 (RESTRAINT SYSTEM FRT SEAT, INFLATABLE, DRIVER AND PASSENGER, FRT & SIDE); 8MP (COMPONENT RR LH COMPUTER SEL SUSP (8MP)); 9MP (COMPONENT RR RH COMPUTER SEL SUSP (9MP)); YD6 (SPRING,REAR(BASE EQUIPMENT)); AJ2 (SEAT,REAR FOLDING,SIDEWAYS JUMP SEAT); AQ4 (SEAT,REAR); Z17 (MERCHANDISED PKG BUICK CXL); SLM (SALES PROCESSING-STOCK ORDERS); 1SD (PACKAGE-OPTION 04); UQ3 (SPEAKER SYSTEM,PERFORMANCE ENHANCED AUDIO); YD5 (SPRING,FRONT(BASE EQUIPMENT)); FE1 (SUSPENSION SYSTEM,SOFT RIDE); AR9 (SEAT,FRONT BUCKET,DRIVER,PASSENGER,MANUAL RECLINING(EUROPEAN STYLE)); D7E (TRAY LOAD FLOOR, STORAGE); UK3 (CONTROL STEERING WHEEL,ACCESSORY); N30 (STEERING WHEEL(DELUXE)); UA6 (THEFT DETERRENT SYSTEM); QLR (TIRE ALL P225/60R17-98S BW ST TL AL2); 592 (TRIM COMBINATION LEATHER, LT NEUTRAL (2) (04)); 59I (INTERIOR TRIM LT NEUTRAL (04)); V73 (VEHICLE STATEMENT - US/CANADA); N85 (WHEEL,ALUMINUM 17 X 6.5) |
Build sheet / List of Basic Equipment
Extra:   


May include:

Title problems
Accidents
Total loss
Flood damage
Odometer problems
Service records
Frame damage
Airbag deployment
Vehicle registration
Recalls
and more...
Buick VIN decoder
|
Buick Rendezvous 2005 Specs and features
|
Buick problems, recalls and complaints
This is the Buick Rendezvous VIN decoder. Every Buick car has a unique identifier code called a VIN. This number contains vital information about the car, such as its manufacturer, year of production, the plant it was produced in, type of engine, model and more. For instance, if someone wants to buy a car, it is possible to check the VIN number one the online database to ensure that the car was not stolen, damaged or illegally modified. The VIN number has a specific format that is globally recognized. This format was implemented by the ISO institute. Every car manufacturer is obliged to mark all its vehicles in this special format. This online service allows a user to check the validity of the car and get detailed information on almost any VIN number, search for Buick Rendezvous car parts and check the car's history. The VIN also allows a user to check the market value of a new or used Buick Rendezvous.
What is VDS? VDS is a Vehicle Descriptor Section. VDS is used to specify a type of vehicle and may include information about the model, platform, engine and transmission.
What is VIN? VIN is a Vehicle Identification Number
What is VIS? VIS is a Vehicle Identifier Section
What is WMI? WMI is a World Manufacturer Identifier. The first three symbols identify the manufacturer of the car.
---