✅1GAWGFFG3J1249331 Chevrolet Express G2500 Van 2018 VIN Decoder & Vehicle History Report
---
Chevrolet Express G2500 Van 2018 VIN Lookup Result:
---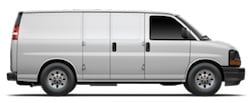 ---
| | |
| --- | --- |
| VIN: | 1GAWGFFG3J1249331 |
| WMI / VDS / VIS: | |
| Manufacturer: | Chevrolet USA |
| Brand: | Chevrolet |
| Model: | Express G2500 Van |
| Image: | N/A |
| Region/Plant: | N/A |
| Check: | 3 |
| Year: | 2018 |
| Sequential number: | 49331 |
| Approx. mileage: | |
Recalls and Complaints:
| | | | |
| --- | --- | --- | --- |
| Campaign # | Date | Component | Initiator |
| 18V655000 | 27/09/18 | ELECTRICAL SYSTEM | MFR |
| 18V267000 | 30/04/18 | EQUIPMENT | MFR |
| 18V509000 | 08/08/18 | TIRES PRESSURE MONITORING AND REGULATING SYSTEMS | MFR |
Additional Information
| | |
| --- | --- |
| CarID | 1466257938 |
| Brand | CHEVROLET |
| ManufacturerId | 792 |
| Catalog | GM_C201809 |
| Model | |
| Name | Express/Savana (2WD) |
| ImageUrl | |
| Date | |
| Actual | |
| KolCount | 0 |
| KolComment | |
| Model_year | 2018 |
| Vin | 1GAWGFFG3J1249331 |
| Production_date | 15.03.2018 |
| Engine | (L96) ENGINE FLEXIBLE FUEL, (GAS/ETHANOL), 8 CYL, 6.0L, SFI IRON |
| Transmission | (MYD) Transmission AT 6-SPEED, HMD, 6L-90 |
| Model_code | G,CG23406 |
| Rpo | RECEPTACLE ELECTRICAL, ACCESSORY 110 VOLT; ANTENNA,FIXED; APPEARANCE PACKAGE GRILLE & BUMPER CHROME; BASE BODY OR CHASSIS; BUMPER,FRONT AND REAR(CHROME); BRAKE HYD POWER, 4 WHL DISC, 9,900 LBS; CAMERA REAR VIEW; COLOR COMBINATION SOLID; CRUISE CONTROL,AUTOMATIC,ELECTRONIC; PRIMARY COLOR EXTERIOR, OLYMPIC WHITE (G); FEDERAL EMISSION CERTIFICATION; COOLER,OIL,TRANSMISSION,AUXILIARY; DECOR PACKAGE/CL/SLE,#6(LUXURY); COMMUNICATION SYSTEM VEHICLE, G.P.S. 1; COMMUNICATION EQUIP MOBILE INTERNET CONNECTIVITY; DISPLAY COMPASS; COUNTRY UNITED STATES OF AMERICA (USA); HEATER,AUXILIARY; DOOR,HINGED SIDE REAR CARGO/SEAT ACCESS; COOLING SYSTEM,ENGINE OIL; COOLING SYSTEM,TRANSMISSION OIL; EMISSION SYSTEM FEDERAL, TIER 3; CONTROL ACTIVE BRAKE; ENGINEERING YEAR 2018; PACKAGE OPTION-; FLEET INCENTIVE ENTERPRISE RENT-A-CAR (ALL PRODUCTS); CONTROL SALES ITEM NO 6; CONTROL - SALES ITEM NO. 89; FLEET PROGRAM - DEALER ASSISTANCE, HOLDBACK NOT APPLICABLE; CARPET,FLOOR AND WHEELHOUSE; COVERING,FLOOR MATS,FRONT AUXILIARY; COVERING,FLOOR MATS,REAR AUXILIARY; COMPONENT FRT LH COMPUTER SEL SUSP; COMPONENT FRT RH COMPUTER SEL SUSP (7AK); TIRE FRONT LT245/75R16/E BW R/PE ST TL ALS 120/116S; GENERATOR 150 AMP; WINDOW,BODY GLASS; WINDOW,BODY GLASS,RH SIDE; WINDOW,SWING OUT GLASS,LH; GLASS,DEEP TINT(REAR SIDE WINDOWS AND REAR DOOR WINDOW); WINDOW PACKAGE, COMPLETE BODY; GRILLE,RADIATOR(CHROME); WINDOW,SWING OUT GLASS,SIDE REAR DOOR; GVW RATING 8, 600 LBS/3, 900 KG; THROTTLE CONTROL VARIABLE SPEED (ELECTRONIC); HEADLAMPS CONTROL AUTOMATIC, DELAY; FLEET PROGRAM NON-REPURCHASE, LONG TERM DAILY RENTAL (ALL PRODUCTS); AIR CONDITIONER,FRONT,MANUAL CONTROLS; SWITCH INFL RST I/P MDL MAN SUPPRESSION; LOCK CONTROL, ENTRY REMOTE ENTRY, STANDARD RANGE; LOCK,SIDE DOOR,ELECTRIC; LAMP GROUP,COURTESY; LANGUAGE CONTROL ENGLISH, FRENCH, SPANISH; MARKET BRAND CHEVROLET; MARKETING AREA NORTH AMERICA, PUERTO RICO/USVI; MIRROR,OUTSIDE,LH & RH,REMOTE CONTROL,ELECTRIC,DEFOG,FOLDING,PAINTED; MIRROR,INSIDE,VISOR VANITY,RH AND LH(ILLUM); VEHICLE TYPE BUS- (NOT SCHOOL BUS); COLLECTION GVW COLLECTION GVW UNDER 10, 000 LBS; OWNERS MANUAL ENGLISH LANGUAGE; PLANT CODE - WENTZVILLE, MO, BOC; WINDOW,ELECTRIC OPERATED,SIDEWINDOW,POWER OPERATED,ALL DOORS; PAINT PROCESS INTERIOR, DELETE; AXLE,REAR,3.42 RATIO; AXLE FRONT (BASE EQUIP) FOR SCHEDULING GVW PLATE; AIR CONDITIONER,RR AUX; RADIO AM/FM STEREO, CAF, RSA, MUSIC NAVIGATOR, GRAPHICS; RESTRAINT SYSTEM,FRONT SEAT,INFLATABLE,DRIVER AND PASSENGER; RESTRAINT ROOF SIDE, LH & RH, INFLATABLESEAT DRIVER,AIR,LOW BACK,VINYL,BOSTROM 910; SPRING,REAR(BASE EQUIPMENT); TIRE REAR LT245/75R16/E BW R/PE ST TL ALS 120/116S; MIRROR I/S R/V TILT, PARTIAL VIDEO DISPLAY; WINDOW,SWING OUT GLASS,REAR DOOR; SEATING ARRANGEMENT,TWELVE PASSENGER; RESTRAINT PROVISIONS CHILD, RR SEAT, RR FACING; STEERING COLUMN,TILT TYPE; FLEET PROCESSING OPTION; PACKAGE LT OPTION 1; DRIVER CONVENIENCE PACKAGE; DRIVER CONVENIENCE PACKAGE II(MERCHANDISING OPTION); SPRING,FRONT(BASE EQUIPMENT); TIRE SPARE LT245/75R16/E BW R/PE ST TL ALS 120/116S; SEAT,FRONT BUCKET(DELUXE); COMPARTMENT STOWAGE, I/P LOWER EXTENSION DELUXE; TRIM COMBINATION CLOTH, MED DK PEWTER II (G) (03) (GMT610 - "G" VAN); INTERIOR TRIM VERY DK GRAY (I); TIRE PRESS INDICATOR MANUAL LEARN; VEHICLE STATEMENT US; VEHICLE FUEL GASOLINE E85; VEHICLE GM PROD WEEK 10; VIN MODEL YEAR 2018; VALUE ADDED ASM FRONT VERTICAL SUSPENSION; COVER,WHEEL; WHEEL 16 X 6.5, STEEL |
Build sheet / List of Basic Equipment
Extra:   


May include:

Title problems
Accidents
Total loss
Flood damage
Odometer problems
Service records
Frame damage
Airbag deployment
Vehicle registration
Recalls
and more...
Chevrolet VIN decoder
|
Chevrolet Express G2500 Van 2018 Specs and features
|
Chevrolet problems, recalls and complaints
This is the Chevrolet Express G2500 Van VIN decoder. Every Chevrolet car has a unique identifier code called a VIN. This number contains vital information about the car, such as its manufacturer, year of production, the plant it was produced in, type of engine, model and more. For instance, if someone wants to buy a car, it is possible to check the VIN number one the online database to ensure that the car was not stolen, damaged or illegally modified. The VIN number has a specific format that is globally recognized. This format was implemented by the ISO institute. Every car manufacturer is obliged to mark all its vehicles in this special format. This online service allows a user to check the validity of the car and get detailed information on almost any VIN number, search for Chevrolet Express G2500 Van car parts and check the car's history. The VIN also allows a user to check the market value of a new or used Chevrolet Express G2500 Van.
What is VDS? VDS is a Vehicle Descriptor Section. VDS is used to specify a type of vehicle and may include information about the model, platform, engine and transmission.
What is VIN? VIN is a Vehicle Identification Number
What is VIS? VIS is a Vehicle Identifier Section
What is WMI? WMI is a World Manufacturer Identifier. The first three symbols identify the manufacturer of the car.
---